What's up, fellow gamers!  If you're wandering in for somewhere, welcome!  Let me tell you about something we do here at RRR: we like to set aside October to be our month dedicated to horror games.  From before the Atari was even out in homes, horror games captured the imagination of gamers and sparked flames of controversy in the minds of America's uninformed talking heads.  I'm thinking specifically of Death Race, one of my favorite arcade games.  They were into the "run over 'people' for points" waaaay before GTA ever came around!
What makes October such a good month for this?  I can't put my finger on it.  Halloween is cool, but something about the temperature dropping, the wind picking up, the sporadic rain and thunder, the world is just a little creepier in October.  So join us, play some spooky games!  If you're not sure what to go for, we've got some suggestions for you here.
I'll kick it off with my personal favorite: Castlevania III.  When I say personal favorite, I'm meaning it very well could be my favorite game of all time, or at least on the Nintendo NES.  It's certainly my favorite spooky title.  The entire Castlevania series gets a hearty recommendation from me (especially Bloodlines, the original, and Dawn of Sorrow), but there's no way to top this one.  You have multiple characters, multiple paths, exceptional graphics and music, and it all comes down to a very solid platformer with pixel-perfect controls.  One of the more thought-out and polished games ever published, and it all takes place in settings like graveyards, clock towers, etc.  Too perfect.
Next comes a recommendation from Zen, the late-release Midnight Mutants for Atari 7800.  It was released in 1990 when the NES had taken over the market, so it's pretty tough to find (a tangible copy, anyway).  But for those that do, what a fun game this is.  The protagonist is on a quest to save his grandfather (a nice change of pace from the damsel-in-distress).  It's an action-adventure with a pseudo-isometric design.  It's tough as nails, but fun and worth working on.  The graphics had me hooked from the intro!  It's free-roaming, has some fun music and nice controls.  I hate it when reviewers tack on "... for this old system," but not being an Atari guy myself, I thought this was an amazing title for the 7800.  Easily one of the best looking, and it's a great game.  Not a great game for the 7800, a great game.  Be sure to check it out!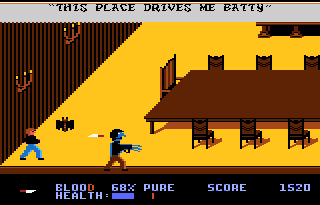 Next, we'll go modern.  Blob has suggested Condemned: Criminal Origins.  Made by Monolith Productions, one of my favorite game producers these days, this one gets psychological thriller.  They cited Seven and Silence of the Lambs as their inspiration - com'on!  You know this will be good.  It's a bit of a film-noir (with a horror slant) style where you play as an investigator hunting down a serial killer who framed you for murder.  It's first-person, but you're not usually armed with a gun.  You are able to use melee weapons from your environment, as well as your investigative tools.  An absolutely amazing atmosphere and engrossing gameplay pull you in and won't let you go.
Well, let's say you do want a gun all the time, what do you play?  I have a couple suggestions with you.  We'll save the best for last and start with F.E.A.R.  FEAR is a fantastic game, released in 2005.  So it's modern, but not cutting-edge.  I won't give away much, since the story begins with a lot of ambiguity.  Essentially, you're combining a shooter with a monstrous little girl with some killer ESP.  Your character is able to use hyper-reflexes to enter into a bullet-time state of existence.  Think of this game as the best of The Matrix and The Ring.  The horror of this game is in the atmosphere and settings.  It's another Monolith game, and they wanted to use the idea of Japanese horror--the type that gets under your skin, not the kind that has monsters jumping out at you.  They pulled it off brilliantly.  (Please note, I'm a fan of the sequel, FEAR 2, but not the third.  No one likes the third.)
Let's take it old-school again and look at Gargoyle's Quest II: a fun and exceptionally unique game for the Nintendo NES.  It's a bit like Zelda II, with an over-head style map play and then side-scrolling platforming action scenes for specific areas.  Set to great music, this Ghosts n' Goblins series game is loads of fun to play.  It's a lot more fun to be the gargoyle than the human!  (Be sure to check out other games from this franchise: Ghosts n' Goblins, Gargoyle's Quest [original], Demon's Crest, Maximo.)
Last but not least is Blood: One Whole Unit.  It's an amazing DOS FPS game created with the Build engine (of Duke3d renown).  Many who play it consider it the best of the old DOS FPS games.  Though I always love Doom 2, I'm starting to think those folks may be right.  It's a 1930s setting with a medieval-esque feel.  Great textures, fantastic sound and music and the amazing controls of a Build engine game make this possibly the most well-balanced FPS ever designed.  The weapons are unique and macabre, the levels exquisitely designed, and it's tough as hell.  I did a huge write-up on this game, so if you want to read more, check it out here!
I hope this gives you some inspiration to get your horror gaming on this October!  If you're stumbling in from some other time of the year - you know, there's never a wrong time to play a scary game.  But we invite you to set aside your October to celebrate the spooky side of gaming.  All that running, jumping, shooting and screaming like a little girl will get you ready for your Halloween party.  (If I didn't live in So. CA where there's always something amazing to do, I think I'd host a Halloween gaming night every Oct. 31st!)  Happy gaming and happy Halloween!